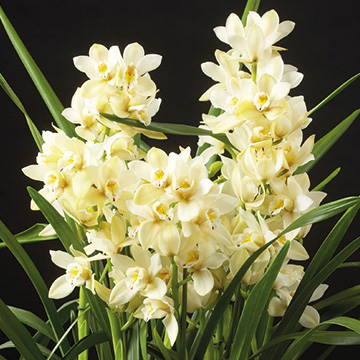 The world's most beautiful orchids have a name: King of Orchids. It's the name that stands for luxury. For exclusivity. The luxury and exclusivity which are characteristic of the pot Cymbidiums from Scholte Orchideeën. You can recognise every Cymbidium by the profuse flowering, with a host of flowers in magnificent colours and prints.
The King of Orchids cymbidiums are personally selected and delivered at precise the right moment of ripeness. That is why the Cymbidiums are always of the highest quality.
The King of Orchids plants are unique cultivars. Each cultivar flowers profusely, with a host of flowers in magnificent, intense colours and prints. With the King of Orchids plants you have a plant which will be in full bloom for more than 8 weeks. And with the correct care the plant can even flower for longer! Click here to go straight to the care tips.